Curls are a great way to add texture, volume, and dimension to your hair. However, when it comes to thick hair, achieving beautiful curls can be a challenge. Thick hair tends to be heavy and can lack volume, which can make it difficult to create curls that stay in place. Fortunately, with the right techniques and products, you can easily curl thick hair for a voluminous and stylish look. This guide will discuss how to curl thick hair, from the best techniques and products to use to styling tips and tricks. With the help of this guide, you will be able to create curls that last all day long.
Curls for Thick Hair – The Best Methods
Thick hair can be challenging to style, but curls can add an elegant touch to your locks. Here are the best methods to curl thick hair:
Curling Wand: A curling wand is a popular choice for thick hair. It is easy to use and can create both loose and tight curls. Start by sectioning your hair and wrapping each section around the wand. Hold the hair for a few seconds before releasing for a natural-looking curl.
Hot Rollers: Hot rollers are an excellent option for creating long-lasting curls. They can also add volume to your hair. Simply roll each section of hair onto a roller and leave them in for 10-15 minutes before removing for beautiful curls.
Flexi Rods: Flexi rods are bendable and can create a range of curls from tight to loose. They are also heatless, which means they can prevent heat damage. Wrap each section of hair around a flexi rod and secure it with a clip. Leave the rods in overnight or for a few hours for the best results.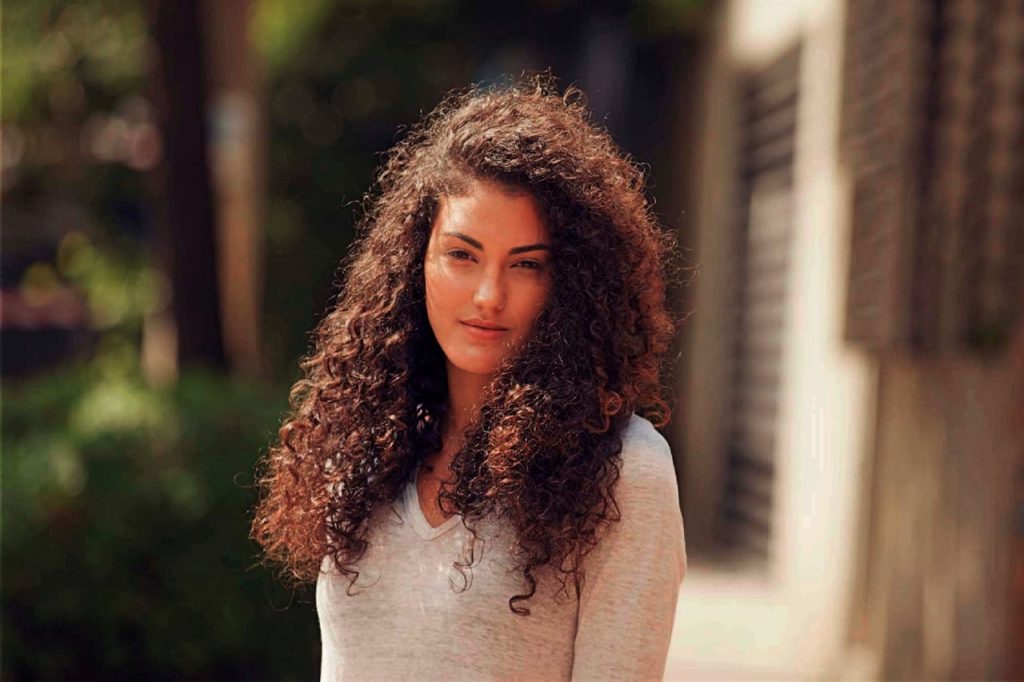 How to Curl Thick Hair with a Flat Iron
A flat iron is not just for straightening hair. It can also create beautiful curls. Here is how to curl thick hair with a flat iron:
Prep Your Hair: Apply a heat protectant spray or serum to your hair before using a flat iron. This can prevent heat damage and keep your hair healthy.
Section Your Hair: Divide your hair into sections to make it easier to curl. Clip up the top layers of your hair and start curling the bottom layer first.
Curl Your Hair: Take a small section of hair and clamp the flat iron close to the roots. Twist the iron away from your face, and glide it down to the end of the hair. Repeat until all your hair is curled.
The Best Products for Thick, Curly Hair
Thick, curly hair requires extra care and attention. Here are the best products to keep your curls healthy and beautiful:
Moisturizing Shampoo and Conditioner: Look for a shampoo and conditioner that is specifically formulated for thick, curly hair. These products are designed to add moisture and definition to your curls.
Leave-in Conditioner: A leave-in conditioner is an excellent way to keep your curls hydrated and defined throughout the day. It can also protect your hair from environmental damage.
Curl Defining Cream: A curl defining cream can help enhance your natural curl pattern and tame frizz. Apply a small amount to your curls and scrunch your hair to distribute the product.
How to Style Thick, Curly Hair
Thick, curly hair can be challenging to style, but there are many ways to keep your curls looking healthy and beautiful. Here are some tips:
Plop Your Hair: After washing your hair, wrap it in a t-shirt or microfiber towel to remove excess water. This technique, known as plopping, helps enhance your natural curl pattern and prevent frizz.
Diffuse Your Hair: Use a diffuser attachment on your blow dryer to dry your hair without disrupting your curls. Use a low heat setting and scrunch your hair as you dry it to create definition.
Pineapple Your Hair: When sleeping, gather your curls on top of your head in a loose ponytail. This technique, known as pineappling, helps prevent frizz and maintain your curls' shape.
In conclusion, thick hair can be challenging to style, but with the right techniques and products, you can achieve beautiful curls. Try out these methods and find the one that works best for you.