Having a thick hair texture is great. A lot of women dream about having a long and thick braid, which they can easily transform to any other hairstyle. But not all of them understand how difficult it is to take care of that thick, fancy hair texture, especially for a mature woman.
That's why a lot of older women decide to cut hair short in order to relieve a burden of visiting a hair salon and buying expensive stuff to keep their thick hair nice and healthy all the time. Cutting your hair short when you are over 50 is a huge tendency now. It is popular even among those who in their 20s and 30s. But it's not that easy to pick a short hairstyle that is going to look great with a thick hair texture.
So, what to go for if you've decided to cut your thick waist-length hair in the near future?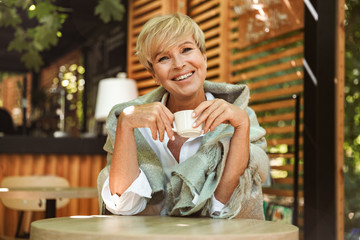 Easy-to-Do Short Hairstyles for 50 Year Old Woman with Thick Hair
Have you ever heard about so-called lazy day hairstyles? These are the hairstyles, which are the perfect suit for the owners of a thick hair texture. Such hairstyles are beautiful, practical, and easy enough even for those who have zero skills in doing their hair at home.
A layered bob. A layered bob with a deep side part is a universal haircut. Using it as a base you can create tons of different day-to-night looks without additional efforts. For example, with a straight hair, it looks very classic and sophisticated. But when it is curled, it looks more romantic and light. The hottest layered bobs are worn by Hollywood celebrities as well. For example, Hayden Panettiere, Jennifer Aniston, Cameron Diaz, and Kirsten Dunst.
A long pixie. It is a mistake to consider a long pixie to be a TV-hairstyle only. Many women think it is a very hard hairstyle to manipulate with at home. Actually, everything is different. The right length of a pixie defines how hard or easy it will be for you to style it at home. If you are a mature woman over 50, go for a long pixie. It has a lot of volume and more variations on what to do with it later. With a long pixie, you can change the parting, curl or straighten your hair, and even create a cute half-bun, or give it an edgy look. Celebrities like Julianne Hough, Katie Holmes, and Halle Berry are the best examples of how to wear a long pixie like a pro.
So, don't hesitate to cut your thick hair short if you have always dreamt of a brand new haircut that will make you look younger and fresher.